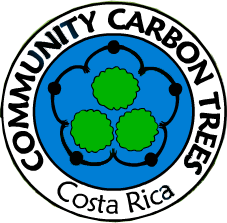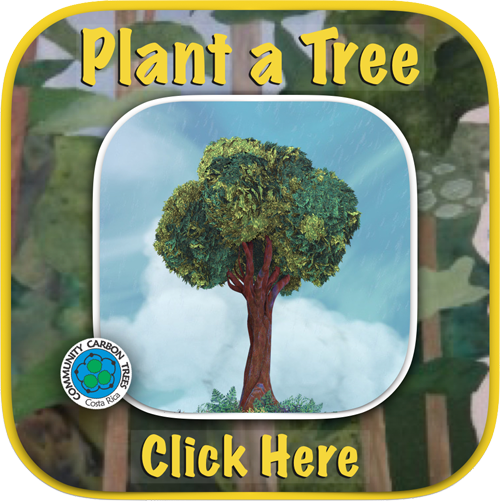 Who We Are
ACCT Work Crews
We employ teams of local Costa Rican men and women from the area of San Juan de Dios to plant and maintain trees! Our friends and families go above and beyond to ensure the establishment and growth of tropical trees. Work crews are trained in transportation, planting, and maintenance. They supervise trees for 4 years and collaborate with farmers for an additional 21 years. Empowering the local community in environmental and social transformation stops deforestation and keeps the trees we plant now standing for future generations. Learn more about our reforestation projects.
Rainforest Nurseries
Workers in our rainforest nurseries sprout seeds and care for saplings for up to two years producing over 100 species of native rainforest trees. The process of germination and development requires the special knowledge of our nursery caretakers, Alvaro and Christian, plus the hands of many part-time workers and volunteers.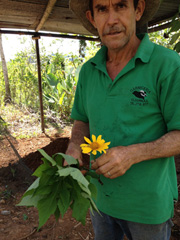 Alvaro Cerdas operates the largest native rainforest tree nursery in the area, working with ACCT for over 9 years. Alvaro understands the importance of biodiversity, finding new and rare species of trees to attract and feed humans and wildlife. He has developed networks for seed collection and exchange among local Ticos and foreign residents.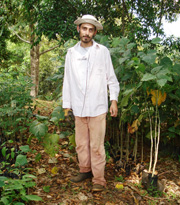 Christian Mena operates our second tree nursery. He is responsible for the production and daily care of tropical trees before planting on site, a process that takes anywhere from eight to twenty-four months.
Women's Group
Asociacion Programas Las Mujeres La Reina De Baru consists of more than 44 women from the valley of San Juan De Dios, Platanillo, Baru, and Tinamastes. These women have come together to grow sustainable business enterprises consistent with rainforest conservation. They sell composted soil, fresh cheese, coconut soaps, aloe vera products, cocoa, fruits, vegetables, arts, and crafts. There is currently a project to build a community kitchen on a jointly purchased piece of land. The women are learning to make and sell carbon neutral products including tree treats: chocolate tree butter cups made with guapeinol seeds. Read about our chocolate making workshop in 2015.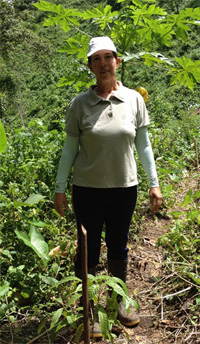 Teresita Badilla Zamora is the leader of the women's group. She is instrumental in hosting groups for ecotourism, reforestation site tours, seed collection, and nursery care. Teresa also maintains all administrative records for labor within the San Juan de Dios Community. Teresa enjoys preparing delicious, homegrown typical Costa Rican lunches from her beautiful riverside ranch.
Veronica Fallas is our accountant who keeps financial records certified and up-to-date. She is instrumental in the transparency of our work, showing our validity to the public and prospectors.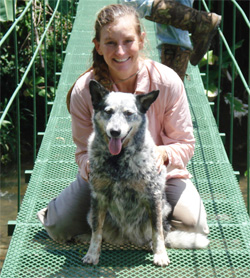 Jennifer Leigh Smith
Meet Jenny, our courageous leader and Founder of Community Carbon Trees! Jenny has devoted over 17 years to plant more than a half-million trees. Her work to build community, protect biodiversity, and reverse climate change is a model for how all people can coexist with nature. Learn more about Jenny here.
Juan Angel Mendiola
Work Crew Administrator, Juan is responsible for the safe transportation and efficient planting of large reforestation projects. Juan leads work crews with consistent motivation and kindness, providing necessary equipment and guidance. This sometimes includes the building of infrastructure, such as roads, bridges, fences, water drainage, and supply systems. Juan takes a lead in managing payroll and insurances. Additionally, Juan works closely with our web developers to keep our interactive site.
Why Costa Rica?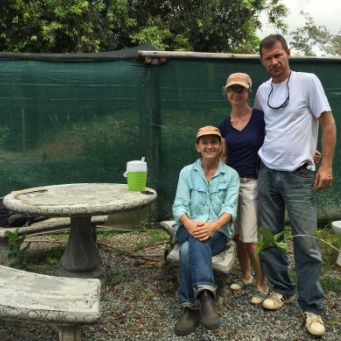 We plant trees in the areas of San Juan de Dios and San Jose de Rivas. Read more about where we plant here. We recently expanded to San Jose de Rivas - read the details on this blog post.
Costa Rica is a prime location to plant trees to fight global warming! Costa Rica is located within 10° of the equator, where trees grow for 365 days of the the year. Continuous growth rates without a period of hibernation accounts for the largest amount of carbon sequestration.
The Southern Pacific Zone of Costa Rica is one of the few places on Earth with intact stretches of healthy rainforest. Creating wildlife corridors by replanting trees in deforested pastures promotes the growth of biodiversity! Preserving and promoting this unique ecosystem is so important when species loss is increasing due to climate change.
The country of Costa Rica understands the importance of preserving their natural resources. Over 25% of the landmass is protected in National Parks and public/private land reserves. Natural features such as trees and rivers are given constitutional protection. In Article 50, there are laws to protect trees from indiscriminate cutting. Comprehensive legal conservation easements can be achieved by landowners to protect properties from development. Costa Rica is consistently rated as a low-risk country for investment by the International Country Risk Investment Guide. Costa Rica runs of 99% renewable energies! The country has no standing army. The people are hardworking and gentle with the spirit of "Pura Vida" Costa Rica is the greenest and happiest place on Earth!
United Nations Grant "UN-Grant"

In October 2013, ACCT was awarded a small grant of $20,000 from the GEF (Global Environment Fund) program of the United Nations Development Fund.
This money funded the production of 30,000 native trees of 65 diverse species in two years. Community Carbon Trees was able to expand our nursery space to plant more trees. We employed our women's group to produce soil and paid locals to plant the trees. Community Carbon Trees is honored and grateful to have partnered with the United Nations Development Fund to make this happen.